Staff and Board
San Antonio Legal Services Association (SALSA) is a corps of attorney volunteers coordinated by professional staff to provide free civil legal services to those with limited means and those who are vulnerable or at-risk.
SALSA's Board of Directors and Judicial Co-Chairs help guide and sustain SALSA's efforts in our local community.
Sarah Dingivan
Executive Director
Prior to joining our team in 2017, Sarah did appellate work for the New Jersey Office of the Public Defender and spent six years on active duty with the United States Air Force as a member of the Judge Advocate General (JAG) Corps, where she represented the Air Force, active duty service members, and retirees on topics ranging from civil legal assistance to criminal law.
Although she now calls San Antonio home, Sarah is originally from Mobile, Alabama and attended college and law school at Emory University in Atlanta, Georgia. Sarah is a Fellow of the Texas Bar Foundation and a recipient of the 2019 Emory University 40 under 40 award and San Antonio Bar Association's President's Award.
Ryan Cox
Managing Attorney
Ryan joined SALSA full-time in 2022 after serving on its Board of Directors since shortly after its creation in 2019. Immediately prior to joining SALSA, Ryan was a Senior Attorney with the Texas Civil Rights Project, leading its San Antonio office and handling significant impact litigation in state and federal courts across Texas. He was previously in private practice in San Antonio and clerked at the United States District Court in San Antonio and at the Texas Thirteenth Court of Appeals.
Ryan is a graduate of the University of Texas at Austin and St. Mary's University School of Law. He has been recognized for his service to the community and to the bar, including receiving the President's Award of Merit from the Texas Young Lawyers Association in 2019 and 2020, the 2021 Outstanding Young Lawyer Award from the San Antonio Young Lawyers Association, and was named to both the American Bar Association's Top 40 Lawyers "On the Rise" and St. Mary's University's Top 10 Graduates of the last decade in 2018. He is a Life Fellow of the Texas and San Antonio Bar Foundations, and has held numerous leadership positions in the bar.
Kat Doucette
Staff Attorney
Kat McColley Doucette, a San Antonio native, studied at Texas Military Institute, the University of Texas at Austin, and Texas Wesleyan University School of Law. She began practicing transactional real estate at title companies before opening her own law firm in 2015.
She excitedly joined SALSA in January 2020. She looks forward to growing real estate assistance programs, including title clean up, establishing probate and guardianship pro bono services, enhancing existing estate planning initiatives, and developing landlord/tenant initiatives and other related subject matter areas to address community needs.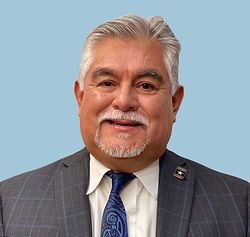 Joe A. Pina
Staff Attorney
Joe has more than 34 years of legal experience. His areas of practice range from Family, Civil and Criminal, to Military and Real Estate Law.
As a retired Army Major with experience in the Judge Advocate General's Corps and as an active participant in the Veteran's Treatment Court (VTC) of Bexar County, Joe has the insight and understanding necessary, to assists our Nation's veterans in the legal affairs of civilian life.
A proud local boy, Joe attended Harlandale High School and St. Mary's University, before receiving his law degree from University of Texas in 1985.
Todd Tagami
Staff Attorney
Todd Tagami, an El Paso native, spent 20 years in the U.S. Army as an enlisted infantryman prior to attending law school. He completed his undergraduate degree while on active duty at American Military University and in 2018 retired from the Army. He earned his J.D. from St. Mary's University School of Law in 2021, earning a Pro Bono and Public Service Certificate for his extra-curricular activities.
As a retired Sergeant First Class and former platoon sergeant, Todd believes in taking care of service members and works to ensure our nation's veterans receive the benefits they earned. His role as a Staff Attorney for the SALSA Veterans' Benefits program allows him to serve the veteran population and their families.
Tashawna Taylor-Hall
Pro Bono Coordinator – Veterans Program
Tashawna joined our team in 2018 and has been the backbone of the program during our transition to a full-service pro bono organization. Tashawna has over five years experience exclusively working with underserved residents in Texas, beginning her pro bono services career with Houston Volunteer Lawyers.
Tashawna takes pride in helping veterans, as she comes from a military family. She completed the University of the Incarnate Word Paralegal Certificate Course in 2020.
Miranda McCardle
Outreach Coordinator
Miranda McCardle earned her BA in Marketing at University of the Incarnate Word. Her upbringing in San Antonio impassioned her to give back to her community by empowering artists, small businesses, and non-profits through her marketing and digital design capability.
She has over seven years of legal experience from working as a legal assistant and business manager in a small law firm. Miranda aims to use her multifaceted skill set to help facilitate SALSA's rapid growth and commitment to closing the justice gap though creating connections to vital legal resources for those in need.
Clarissa Galindo
Pro Bono Coordinator – Housing & Homelessness Program
Clarissa Galindo earned her bachelor's degree in Communication-Public Relations from the University of Texas at San Antonio (UTSA). She is originally from the Rio Grande Valley but has made San Antonio her home and has close to ten years of experience in non-profit organizing.
Her background and work in non-profit and government have fueled her passion for working towards an equitable future for her community. Through her work, she has experience in organizing to help impact communities in a positive and meaningful way.
Alison McConnon
Pro Bono Coordinator – Estates & Disability Program
Alison graduated from Texas A&M University – College Station in 2014 with a Bachelor of Arts in Political Science. Like many who call Military City home, her family history was shaped by the diversity and experience of growing up as a child of the military. She has 9 years of experience working with legal practices & non-profits in San Antonio; including over 2 years as a Pro Bono Coordinator for SALSA.
Alison is passionate about giving back to the community through her work with estate planning & disability assistance services. She looks forward to the services that SALSA is able to provide to people receiving assistance from The Multi-Assistance Center at Morgan's Wonderland.
Current Judicial Co-Chairs
Past Judicial Co-Chairs and Founding Judges